Ticket for dinner and show
(Admission fee included)
Adults THB 700 (inclusive of souvenir)
Children THB 350 (101 - 130 cm of height)
Dinner Opens daily (except on Tuesday) from 18.00 to 20.00 hrs.
Advance reservation is required, please call: 034 540884–86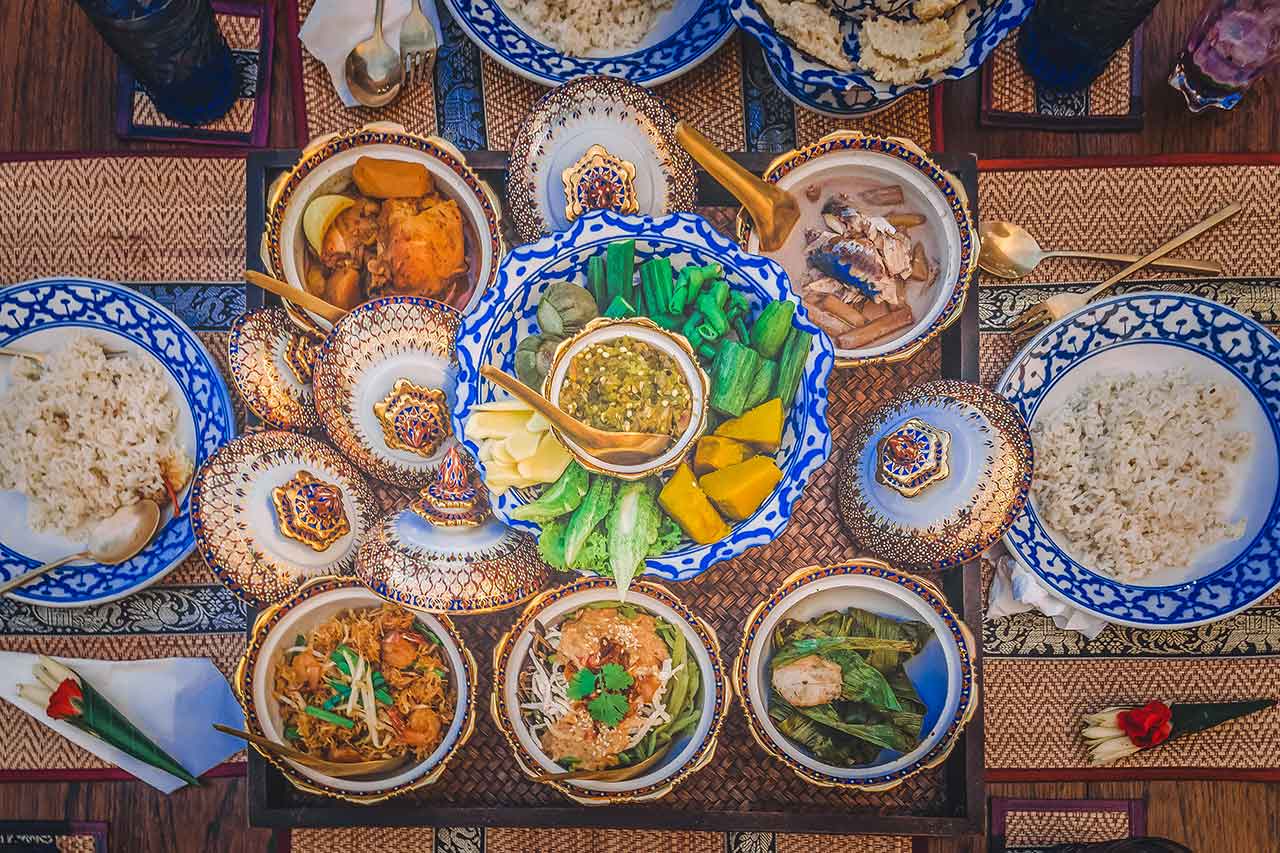 Consists of crispy noodle, entrails soup, chili paste with fish, spicy mixed salad, Mussaman curry. Choice of menu is carefully selected for new generations to savor authentic taste of the dish crafted by Thai ancestors' wisdom. These dishes are hardly found nowadays or they have already been much modified.
Gang Buan (entrails soup): when speaking of entrails soup, many will think about its fishy smell. But, with the wisdom of the Thai ancestors, it can be eaten in the absence of the scent. Using herbs, roasted and grounded as main recipe, cooked with pork entrails. The cooking process is very complicated so most people do not know about it as only handful of people can cook it.
Crispy noodle: the food has been adapted since then till present day. When mention crispy noodle, younger generation will think about fried flossy noodle mixed with various ingredients and molded into a ball-like shape, can be kept for quite a long time. However, original crispy noodle is not flossy but white and scented with bitter orange, not very sweet, rather rounded taste, but cannot be kept for long. There are also chili paste with fish, chicken Mussaman curry and spicy mixed salad.
* The price includes rice, fruit, and drinking water. All food will be refilled.
Shows
Duration 1 hour, start at 19.00 hrs.
Khon (classical Thai pantomime)

Battle of Ravana and Rama (The Battle). This show is a part of Ramayana, a play based on a story of a war between Rama, Lakshmana and their monkey army with Ravana, a demon King of Lanka city. The battle of the two is full of incredible dance moves, battling acts; a unique and exquisite art.

Satchatri

This show is popular for its uniqueness southern style. Developed from Sat dancing, a dance tribute to art masters of Chatri performance which is one of Thai classical stage show considered an origin of many other performance born in later era. According to Chatri tradition, the actor must perform a prelude in worship of the art masters called "Sat dance" to the rhythm of various Thai music instruments. Later on, the Department of Fine Arts has adapted the dance to have both the male and female performers to make it look more lively but keeping the tempo unchanged. The point worth noticing is a well-defined; synchronize set of movements to the beat. While the dancers are performing, drummers urged the rhythm in harmony. This is why it is so popular among the audiences.

Font Pan

It is presumed to have originated from the theatrical tale of Pra Lor, a play written by HRH Prince Narathip Prapongpong. This is the chapter when the main character, Pra Lor, takes a bath in Kalong River. The dance moves are made up of northern style mixed with Thai dance and are adjusted to the melody. Originally, Pan Dance was a solo dancing. Later, Ms. Lamun Yamakup added more moves and performers; changed to a group dance, male or female. The lyrics were composed by Major General Luang Vijitwatakan. The first show was performed by Department of Orchestral, Silpakorn School (now the College of Dramatic Arts) in the occasion of Art and Culture exhibition in Japan. There are two types of lyrics, full and cut. However, it is performed without lyrics nowadays.

Gliding Ginnaree

This show puts together two performances to make it more interesting. It is praised for its distinguished dance moves and costumes. The first show is Gliding Ginnaree, a scene where Manohra and her sisters, Ginnaree, fly down to Anodas pool of Krailas mountain. The other show is Manohra Dance by Khunying Paew Sanitwongseni who invented the dance move. The Sacrifice of Manohra is a dance of the Ginnaree, Manohra, pretending to sacrifice herself into fire before flying away in escape.

Laos Kratob Mai

Kratob Mai is a native play of Surin province, formerly known as Sak Dance. Thailand has a long history of agriculture. Rice farming is the mainstay of Thai people, making a lot of income as export product. Daily life of Thai people, hence, engaged with rice farming. From sowing, plowing, planting and harvesting, etc. and with a fun loving habit, after work, the farmers pound their rice pestles giving beat to this traditional games. Originally, the beat may come from the pace of rice pounding when two people take turn in using the standing mortar. Later on, develop into using long pieces of wood with a short piece of wood on each end, the performers knock these four pieces of wood in a rhythm.

Sword Play

Sword play is one of basic elements of Thai martial arts. The name Sword Play derived from the fact that this sport brings martial arts and armed weapons techniques used in battle in ancient times and to practice and play in peaceful era. As a sport, rattan is used to make these armories, swords, halberd etc. Leather is made into shields. Then, fighters are paired up to play or compete against each other the same way as on the battlefield, practicing both attack and defend technique.

Pirompatchanee Dancing

Malika City's Theatrical Art Department was inspired by the dress and manner of ladies in R.E 124. So, they invented beautiful dance moves, and chose the song that matches the atmosphere of R.E 124 to fit and suit the dance. The elegance of R.E 124 ladies was conveyed to the music of joy which is the name of this show, Pirompatchanee, lady of joy.